---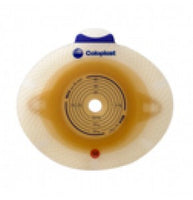 Sale
SenSura is optimised on all the five parameters required in an adhesive:
- absorption
- tack and adhesion
- flexibility
- erosion resistance
- ease of removal
It is therefore suitable for most people with an ostomy.
Double-layer technology
SenSura has a double-layer technology. A darker skin friendly contact layer and a lighter strong protection layer.
Protection layer
The strong protection layer protects the skin from leakages and prevents the adhesive from eroding away from contact with stoma output.
Skin friendly layer
The layer in contact with the skin absorbs sweat and moisture. This helps to keep the skin dry and healthy and reduces the risk of skin irritation.
Flex patterns
Flex patterns makes the adhesive more flexible. Giving greater wearing comfort, as it conforms to your body.
Tack and adhesion
The adhesive has a good tack and strong adhesion to the skin, providing security and confidence. As the adhesive absorbs moisture, it will swell and seal around the stoma offering further protection.
Removal ear
It is easy and painless to remove the adhesive from the skin. The adhesive is also formulated so that residues are not left behind when it is removed.
SenSura adhesives are available in both flat and Convex Light versions.
The SenSura adhesive is available with SenSura 1-piece, SenSura Click and SenSura Flex appliances in a variety of sizes and come with different features.