---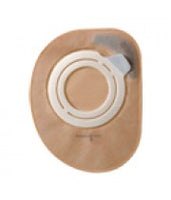 Sale
Easiflex 2-piece closed pouch
Easiflex for people with a Colostomy
The adhesive coupling from Coloplast has been designed to improve the quality of life for people with a colostomy. It's unique, low-profi le, 2-piece design is available as a closed pouch.
Safe to use: Contains a unique security channel, preventing flange curl up and thus leakage.
Soft and comfortable: As soft and fl exible as a 1-piece pouch, ensuring freedom of movement while still wearing a 2-piece.
Simple to handle: Easy to apply and remove. Simply grip the baseplate with two fingers and pull the pouch down.
Hygienic and easy to clean: With Easiflex it is very easy to clean the baseplate when changing pouches. There are no edges, and the baseplate can be quickly wiped clean with water.
The Easiflex Adhesive Coupling System:
Large blue tape for easy removal
Security channel design prevents leakage
Soft, comfortable and flexible
No absorptive properties in the coupling
No discoloration or odour